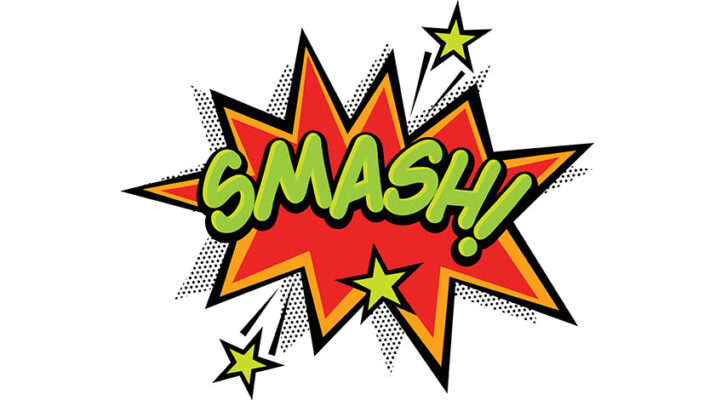 Smash Your Stress Away In Henrietta
By John Addyman
Have you had a moment when you were angry or frustrated enough that you could just tear something down or smash it to bits?
Think of that piece of pottery that wouldn't glue back together properly or your frustration trying to get a COVID-19 vaccine appointment.
You'd look silly — or unhinged — throwing the pottery against the wall or screaming at your computer screen or phone … even though that's exactly what you want to do.
Steve Shortino, 24, and his company, Smash Therapy, have a solution.
Phone his company or access the website and make an appointment. When you get to the site on Jefferson Road in Henrietta, he'll hand you work gloves, goggles, a face shield and if you want one, a full body suit.
You'll then be ushered into your suite, which is yours for the next 20 minutes. Leaning up against the wall is your choice of implement — crowbars, aluminum baseball bats, lengths of metal pipes and golf clubs. And in front of you are items that are awaiting their fate — car windshields, all kinds of glassware, electronic devices like coffee makers and stereo sets and toasters and printers.
"Enjoy!" your host will tell you and close the door.
And it's smashin' time.
When Jen Barr from Newfane and Brandon Clouser of Batavia made their first visit to Smash Therapy, it was her idea. Two weeks later they were back — Brandon's request.
"We were looking for something fun to do in the area," she said. "We considered axe-throwing, but this won out. It's reasonably priced and fun. This is the second time we've come here and this time, it was his idea: we got the extra package."
Brandon said that "something that ticked me off" was one motivation for the second trip, but it was more fun with Jen along.
"The coffee cups were all mine," Jen said. "He went for the electronics because they take a lot of effort to smash."
While the couple was in the closed room raining destruction, the concussion sounds audible outside were matched with big laughs. Brandon came out of the session sweating. "That was hot fun," he said.
Shortino heard about people making a business out of letting people smash things in 2017 from his boyhood friend Branden Williams, who suggested they go into business. "I thought that was the dumbest thing of all time," Shortino said. He recalled a story about a guy in Japan in the 1990s who set up a business handing people plates they could smash. "The line was a mile long behind him."
Eventually getting a little more interested in the idea because nothing better had come along, Shortino opened Smash Therapy in 2018, in 2,200 square feet of space. "I had no idea what I wanted to do after high school," he said. "Zero clue."
"And when we opened, I was surprised that we were a lot busier than I thought we'd be," he said. The following year, he was closed like almost everything else for three months during the pandemic. Shortino's business reopened tentatively in July last year "and COVID-19 seems to have helped me. When it started getting colder, there wasn't enough for people to do. They wanted to get out and do something and that seemed to accelerate our business. We are something different, something fun, and we're reasonable priced. You can come here and spend $20 and you'll have a blast."
Once on site, "everyone's got their own private room, their own time, and they're never with any strangers. They can book ahead of time online or over the phone. We take walk-ins but we haven't been able to accommodate them lately because we're so busy," he said.
The clientele is varied and surprising. Shortino said 60% of his customers are female: "The overwhelming number of people come here just to have fun because they heard other people came here and had a good time. You also obviously get those people who are stressed or angry. Most come for fun or something to do with their friends. Ninety-nine percent of people are happy when they leave. Most are tired, too, because they get really into it."
Joseph Cruz Sr. and his wife, Ryan, brought their son Joe Jr. and his fiancé, Victoria Rivera. After their time a-smashin', Joe Sr. said he was exhausted after 11 minutes. "I needed that." A supervisor at work, he said the trip to Smash Therapy "is a good team-building activity."
Ryan said she brought the family to Smash Therapy on the advice of a friend who had brought her family.
"That's one of the reasons why this business is great," said Shortino, "all walks of life can have fun here. Kids love it."
He said one mom told her son she was taking him to "therapy." When he found out where that was, he told her, "I'm so excited." Another family with a child with autism has taken a yearly membership to come every week.
Smash Therapy couldn't exist without its suppliers – windshields come from FB Glass, Mr. Glass and Ray Sands Glass, the electronics are from Sunnking in Brockport, and all glassware comes from Goodwill.
Another Smash Therapy location is due to open this spring at Destiny Mall in Syracuse as Shortino expands. He won't have any trouble getting people in the door. "I'm surprised how far people will drive to come here," he said. "We've had people come from New Jersey, New York City. They have rooms down there, but we're so much a better deal, have so much more stuff, and so many more add-ons."
That success comes at a price.
"I've never taken a day off," Shortino said. "I don't plan to, either. The moment I start taking time off is the moment someone starts to catch up to me."
• Editor's Note: If you're interested in smashing things and having fun, contact Smash Therapy www.smashtherapyinc.com