RAGE ROOMS
Blow off some steam in a mess-free, totally safe space, where you can truly let go without any consequences. Designed to provide you with a memorable experience, iSMASH rage rooms offer smash sessions starting at just $25 per person for 20 rage-filled minutes.
SPLATTER PAINT
Unleash your creativity with iSMASH splatter paint, a silly, liberating experience that's suitable for all ages. Make unforgettable memories and works of art you get to take home with you, all while expressing yourself in a unique way.
AXE THROWING
iSMASH brings the ultimate lumberjack competition to you with our axe throwing experience! Hosted in a vibrant venue and under the expert guidance of our instructors, you will get the once-in-a-lifetime opportunity to feel like a lumberjack champion.
NEED TO BLOW OFF SOME STEAM?
Look no further than our fully equipped rage rooms. Pick up your tool of choice and get down to smashing!
In the mood for some creative release?
We've got you covered with our spacious paint splatter room that will unleash your inner artistic genius.
Want to try your hand at competitive axe throwing?
Practice your axe throws in a completely safe environment and prove to your friend you're the best lumberjack.
WHAT IS A VISIT LIKE?
Check out the #1 new experience that's sweeping the nation
PLANNING A BIRTHDAY PARTY OR CORPORATE EVENT?
Celebrate your special event with a BANG! We'll provide your friends and family with an experience they'll never forget. iSMASH is the perfect venue for your next company outing, whether it's a company meeting with a twist, holiday party, or team-building to boost morale, we've got you covered!
LEARN MORE
SUBSCRIBER ONLY SPECIALS & DISCOUNTS
Join our mailing list to receive the latest updates, discounts and special offers for subscribers only.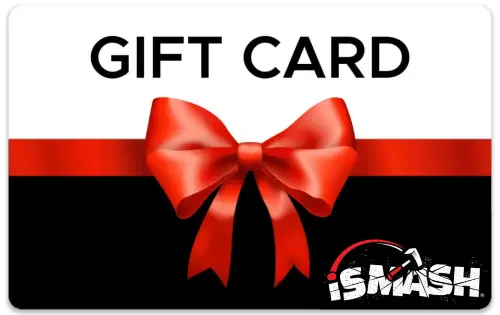 THE PERFECT GIFT
When you want your gift to truly be a smash hit, look no further than iSMASH gift cards, available in digital and physical format in several denominations from $25 to $500 and redeemable at any location in the US.
EXPLORE GIFT OPTIONS
WHAT OUR CUSTOMERS ARE SAYING

Verified
Great fun! Had such a fun time at Snash Therapy! We had 10-14 year olds and adults, and every age had fun. Everyone in the group loved it and can't wait to come back!

Verified
Birthday bash hit!! Took my son for his birthday, and he loved every second of it!!! We all had a blast just wish we had one closer to home, 35 minutes went by way to fast for the 1 hour and 40 minute drive one way, but we made the best of it and would highly recommend!!!

Verified
HULK SMASH Ohhh my god this is the best place in the world after a long work week!!! Kelly was the best, it can get a little warm but it's all worth it. Do t miss out on the windshield smashing. HULK SMASH!!!
Verified
Family therapy 1st timer here. First we signed a waiver and after a sort video we Suited up. We went into a room & started breaking stuff. From plates to old phones & dishes. You can use baseball bats, metal pipes, Crowbar or just good old fashion throwing it at the wall or floor. We had 4 people in our group and the 20 minutes seemed to go fast. It was fun ,something different .

Verified
Smash Therapy is a must This was a great experience! Brought my boyfriend here as a surprise and we both had an awesome time. I would recommend tucking your sleeves into your gloves so nothing flies up your sleeves. Work boots may be a good idea instead of sneakers. We didnt get the body suits but i think next time we will because it got really hot in long sleeve pants and shirts. The car windshield was a must and the powder bombs were cool. Great time awesome staff and we will be coming back.
Destination779720
2021-05-23
Verified
Great time ! Great experience ! There was a rather large group (13) and the accommodated us in 2 groups. We got to watch the other group on a video while they had their turn. Lots of fun : )
Verified
Bachelorette Party Great place!! Great employees!! The employees had no problem helping our large group! The smash therapy gives you a chance to let out some build up anger!!

Verified
Smash!!!!!!! Incredible!!! My girlfriend and I needed a good breaking/smashing session!!! Simply awesome!!!! Amazing stress relief!!!

Verified
Fun way to get out lil frustration Been here twice..drove an he and 21 min..was so fun..with all the crazy going on in life..fun way to relieve some frustration...so excited they are coming to my city next month..def going get the membership

Verified
Returning smasher Staff was friendly and easy to check in. They give you a ton of stuff to smash in the allotted time. It was worth every penny to smash some glass and electronics. We drove 2 hours just to do it and we would do it again!